Apa masalahnya dengan belajar tulisan Jawi?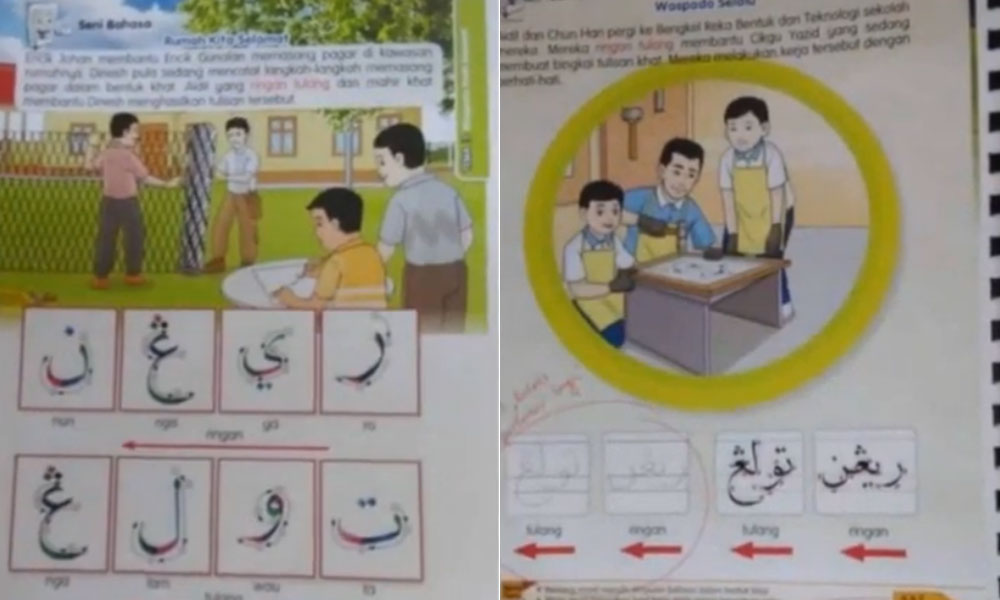 Malaysia terdiri daripada pelbagai kaum dan agama dan mereka hidup dalam aman damai dan harmoni.
Mempelajari pelbagai bahasa atau penulisan sangat disyorkan supaya kita dapat mengenali budaya dan agama kaum lain. Jika kita dapat menguasai banyak bahasa dan tulisan, lebih mudah untuk berkomunikasi dengan satu sama lain dan dengan pelbagai kaum dan memupuk hubungan yang lebih erat antara kaum dan agama.
Hasrat Kementerian Pendidikan untuk memperkenalkan tulisan kaligrafi dan tulisan Jawi untuk mata pelajaran Bahasa Melayu untuk Tahun Empat sepatutnya diberi sokongan oleh semua pihak tanpa mengira bangsa dan agama.
Kenapa kita harus menjadikan tulisan Jawi isu semata-mata untuk kepentingan pihak tertentu? Pelajaran penulisan Jawi yang akan diajar di Sekolah Rendah Tahun Empat sangat bermanfaat untuk pelajar mengenal dan mempelajari tulisan Jawi. Sekiranya ia boleh dibuat peringkat awal Tahun Pertama Sekolah Rendah lebih baik lagi.
Tiada sebab untuk parti politik tertentu dan organisasi atau persatuan untuk menentang program pembelajaran tulisan Jawi ini kerana ia meningkatkan pengetahuan pelajar kerana mereka dapat berkomunikasi dalam banyak bahasa dengan mudah dan mesra.
Pertubuhan seperti Persatuan Gabungan Jawatankuasa Sekolah Cina (Dong Zong) dan Gabungan Persatuan Guru-guru Sekolah Cina Malaysia (Jiao Zong) yang menentang pengenalan pembelajaran Jawi di sekolah vernakular tidak mempunyai alasan kuat untuk menghalang pembelajaran Jawi. Jika mereka boleh bertindak di luar had mereka, adakah mereka sedar bahawa tindakan mereka adalah satu pembaziran masa dan boleh menyebabkan persengketaan kaum dan agama di negara ini.
Bagi mereka yang menentang tulisan Jawi ini boleh menyebabkan orang lain bertindak balas, mereka harus menghentikannya, jika tidak, ia boleh menyebabkan persengketaan kaum dan agama di negara ini.
Pasukan keselamatan mesti bertindak tegas terhadap pelampau ini untuk mengelakkan persengketaan kaum dan agama yang boleh menyebabkan negara tidak aman.
Kami menggesa semua pihak supaya bertenang dan rasional dalam memastikan keselamatan negara kita tidak terjejas oleh isu sensitif ini. Setiap orang harus menghormati budaya dan kepercayaan masing-masing, sebarang pertikaian tidak dapat diselesaikan secara emosional.
Mana-mana persatuan / organisasi yang menyebabkan ketidakstabilan di negara ini perlu berhati-hati untuk tidak bertindak balas terhadap isu sensitive kerana rakyat dari pelbagai kaum dan agama akan bertarung satu sama lain kerana isu sensitif yang mereka mainkan. Jika mereka terus mengganggu ketenteraman awam, mereka perlu diambil tindakan. Sekiranya golongan ini tinggal di negara lain, mereka tidak akan diberikan keistimewaan dan layanan yang sama dan sebagainya seperti di Malaysia.
Marilah kita belajar menghormati tradisi kebudayaan pelbagai kaum dan kepercayaan mereka supaya kita dapat mengenali satu sama lain dengan lebih baik dan hidup dalam damai dan harmoni di negara ini. Lebih baik bagi kita untuk belajar banyak ilmu pengetahuan daripada terus bertengkar satu sama lain untuk perkara-perkara yang tidak memberi manfaat kepada negara.
Akhir sekali, apakah manfaat menentang pembelajaran tulisan Jawi dan keburukan pembelajaran tulisan Jawi? Marilah kita berfikir secara rasional dan mengelakkan pertikaian kaum dan agama di negara ini.
What's the problem with studying Jawi writing?
Malaysia is made up of various races and religions and they live in peace and harmony.
Learning a variety of languages or writing is highly recommended so that we can get to know the culture and other religions. If we can master many languages and writings, it is easier to communicate with one another and with different races and foster closer relationships between races and religions.
Education Ministry's intention to introduce calligraphy writing and Jawi writing for the Malay Language subject for Year Four should be supported by all parties, regardless of race and religion.
Why should we make a Jawi writing an issue solely for the sake of a particular party? The Jawi writing lessons that will be taught in primary school Year Four very helpful for students to know and learn Jawi writing. If only it could make the early years of Primary School even better.
There is no reason for certain political parties and organizations or associations to oppose this Jawi writing learning program as it enhances students' knowledge as they can communicate in many languages easily and friendly.
Organizations like the United Chinese Schools Teachers' Association (Jiao Zong) and the United Chinese School Committees' Association (Dong Zong) which defies the introduction of Jawi learning in the vernacular school have no strong reason to hinder learning Jawi writing. If they can act beyond their limits, do they realize that their actions are a waste of time and can cause racial and religious strife in the country.
For those who oppose this Jawi writing can cause others to react, they should stop it, otherwise, it may cause racial and religious strife in this country. Security forces must act decisively against these extremists in order to avoid racial and religious strife that could lead the country unsafe.
We urge all parties to be calm and rational in ensuring that our national security is not affected by this sensitive issue. Everyone has to respect their culture and beliefs, any dispute cannot be resolved emotionally.
Any association/organization that causes instability in the country should be careful not to respond to sensitive issues because the people of various races and religions will fight each other because of the sensitive issues they play. If they continue to interfere with public order, they will need to be taken action. If this group lived in another country, they would not be given privileges and treatment the same as in Malaysia and so on.
Let us learn to respect the cultural traditions of the various races and their beliefs so that we can get to know each other better and live in peace and harmony in this country. It's better for us to learn a lot of knowledge than to fight each other for things that don't benefit the country.
Finally, what are the benefits of opposing learning Jawi writing and the disadvantages of learning Jawi writing? Let us think rationally and avoid racial and religious disputes in this country.
Read more...