Musim cuti perlu mendapatkan kadar tambang lebih murah
Tahun 2018 adalah tahun melawat Miri di mana ia adalah masa terbaik untuk menarik pelancong dari dalam dan luar negara untuk melawat Miri. Bandaraya Miri perlu diberi peluang untuk diperkenalkan di peringkat antarabangsa supaya lebih ramai pelancong dapat menikmati keindahan alam semula jadi yang terdapat banyak di bahagian Miri seperti Gua Niah, Taman Negara Mulu dan tempat tarikan lain untuk pelancong dari luar melawat Miri.
Kami mencadangkan kepada kerajaan Sarawak terutama Kementerian Pelancongan dan Kebudayaan Malaysia untuk membolehkan syarikat penerbangan mempromosikan tempat pelancongan yang lebih menarik untuk dilawati di Sarawak terutamanya di bahagian Miri. Syarikat penerbangan itu harus dapat mengembangkan lagi destinasi penerbangan terus dari Miri ke luar negara. Seperti dari Miri ke Surabaya, Australia, New Zealand dan negara-negara Asian yang lain.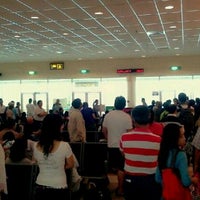 Lapangan terbang Miri perlu dinaik taraf ke lapangan terbang antarabangsa dan dewan berlepas perlu lebih selesa dan kerusi perlu lebih banyak sementara mereka menunggu waktu berlepas. Kita dapati pada waktu puncak terdapat penumpang terpaksa berdiri sebelum mereka dapat masuk ke dalam pesawat.
Musim perayaan dan cuti persekolahan merupakan peluang untuk ibu bapa membawa keluarga mereka melancong ke tempat peranginan sama ada di dalam negara atau ke luar negara. Ini adalah masa yang sesuai untuk mereka dan keluarga mereka melancong di dalam atau ke luar negara.
Masalahnya sekarang adalah apabila terdapat musim perayaan dan cuti sekolah, kita dapati harga tambang lebih mahal daripada biasa. Sebagai contoh, syarikat penerbangan akan menaikkan harga tiket semasa musim perayaan menjadikan sukar bagi golongan yang berpendapatan rendah dan sederhana untuk menggunakan perkhidmatan tersebut.
Mereka yang mempunyai keluarga besar mungkin akan menjadi mangsa kerana mereka terpaksa menangguhkan atau terpaksa menggunakan perkhidmatan lain untuk sampai ke destinasi mereka. Bagi mereka yang terpaksa menggunakan perkhidmatan udara terpaksa menunggu masa yang sesuai untuk menempah tiket yang berpatutan untuk membawa keluarga mereka bercuti atau pulang ke kampung.
Kami menggesa pihak yang berkenaan untuk mempertimbangkan cadangan untuk menurunkan tambang semasa musim cuti untuk membolehkan mereka yang membawa keluarga mereka menggunakan perkhidmatan udara pada masa itu.
Secara tidak langsung ianya mengalakkan lebih ramai keluarga dapat keluar melancong disamping memberi lebih banyak pendapatan kepada syarikat penerbangan berkenaan kerana waktu itulah ramai yang ingin keluar membawa keluarga masing-masing melancong.
Harap agar pihak yang berkaitan dapat memberi perhatian masalah ini demi untuk memudahkan orang ramai menggunakan perkhidmatan udara dengan lebih selesa dan selamat sampai ke destinasi masing-masing.
The holiday season should get a cheaper fare
The year 2018 is the year of visiting Miri where at that it is the best time to attract tourists from within and outside the country to visit Miri. Miri City should be given the chance to be introduced at international level
so that more tourists can enjoy the beauty of nature which there are many in Miri division like Niah Caves, Mulu National Parks and other attractive attractions for tourists from outside visiting Miri.
We propose to the Sarawak government, especially the Ministry of Tourism and Culture Malaysia to enable airlines to promote more interesting places to visit in Sarawak especially in the Miri division. The airline should be able to further expand destinations on a direct flight from Miri to overseas. Like from Miri to Surabaya, Australia, New Zealand and other Asian countries.
Miri airport needs to be upgraded to an international airport and departure halls need to be more comfortable and have more seats as they waited for the departure time. We found that at peak times there are passengers had to stand long before they can enter the aircraft.
Festive seasons and school holidays are an opportunity for parents to bring their family travel to the resort either domestically or abroad. This is a great time for them and their families traveling inside or outside the country.
The problem now is whenever there are a festive season and school holidays we find the price of the fare more expensive than the usual time. For example, airlines will raise ticket prices during the festive season making it difficult for low- and middle-income groups to use the service.
Those who have a large family will likely be victims because they had to postpone or forced to use other services to reach their destinations. For those who had to use the air service had to wait for the right time to book a reasonably priced ticket to bring their families on vacation or return home.
We urge the relevant party to consider the proposals for lowering fare during a holiday season to allow those who take their families to use air services at that time.
Indirectly it encourages more families to go on a trip while providing more income to the airline because that is when many people want to go out with their families traveling.
Hopefully, the relevant parties will be able to pay attention to this issue in order to facilitate the use of air services more comfortably and safely to their destination.