Bazar Ramadan perlu mempunyai peraturan yang ketat untuk keselamatan pengguna dan penjaja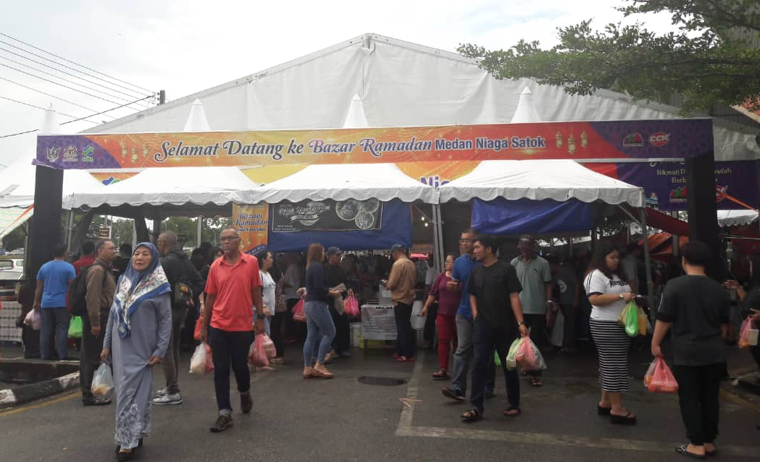 Jika wabak Coronavirus @ COVID-19 terus meningkat setiap hari, maka PKP (Perintah Kawalan Pergerakan) mungkin akan dilanjutkan sebulan lagi dan membuat ia lebih sukar bagi mereka yang mencari rezeki untuk meneruskan kehidupan seharian mereka, terutamanya perniagaan kecil yang mengharapkan pendapatan harian mereka.
Ramadan akan muncul tidak lama lagi, jadi bagi mereka yang biasanya melakukan perniagaan di Bazar Ramadan, sukar bagi mereka untuk menambahkan pendapatan mereka jika mereka dilarang menjalankan perniagaan apabila PKP dilaksanakan pada ketika itu.
Untuk meneruskan perniagaan mereka pada masa itu, kerajaan perlu mencari tapak yang sesuai dan harus ada peraturan yang ketat untuk keselamatan pengguna dan penjaja untuk menjarakkan diri dari mana-mana gerai.
Pintu masuk dan keluar dari Bazar Ramadan mesti dikawal dengan ketat untuk mengelakkan kesesakan dan terlalu ramai pengunjung atau pembeli pada satu masa. Pembeli boleh menjarak antara satu sama lain dan pembeli boleh memilih, membayar apa yang mereka perlukan dan kemudian pergi keluar ke ruang yang disediakan bagi orang ramai untuk mengelakkan kesesakan di satu kawasan.
Sebelum tapak yang dikenal pasti ini boleh digunakan untuk perniagaan, pertama, harus ada proses sanitasi untuk mengurangi penyebaran COVID-19. Proses sanitasi sangat penting di mana-mana tempat pembekal khidmat makanan untuk mencegah keracunan makanan dan mengekalkan kebersihan semasa memproses makanan.
Ia memastikan bahawa semua permukaan dibersihkan dengan kerap dan mengurangkan risiko jangkitan bakteria atau patogen lain dari permukaan yang tercemar dengan membersihkan peralatan seperti papan pemotong atau peralatan memasak dan sebagainya. Mungkin dengan cara ini, ia dapat mengurangkan risiko jangkitan virus atau bakteria di tempat lain.
Kami menggesa pihak berkuasa menjalankan proses sanitasi secara keseluruhan, terutama di zon merah dan kawasan awam, jadi jangkitan COVID-19 boleh dirawat dengan berkesan. Sekarang semua pihak harus bekerjasama dengan kerajaan untuk menangani penyebaran COVID-19 dengan mematuhi larangan dan tinggal di rumah dengan menjalani kehidupan yang sihat dan selamat.
Terpulang kepada pihak kerajaan jika ia akan memberi peluang kepada perniagaan untuk meneruskan perniagaan mereka secara terbuka tetapi terkawal atau tertutup menggunakan perkhidmatan dalam talian tapi yang penting wabak COVID-19 dapat dikawal dari terus merebak.
Semoga masalah ini dapat diselesaikan dalam keadaan menang-menang sehingga semua orang dapat terus menjalani kehidupan mereka dengan selamat dan dalam keadaan sehat. Marilah kita berdoa kepada Allah supaya penyakit COVID-19 dapat dikawal dan dihalang daripada terus menyebar dan
kita boleh menjalani kehidupan seperti biasa.
Jofri Jaraiee
Pesuruhjaya PAS Sarawak
English version
Ramadan bazaars need to have strict rules for the safety of consumers and hawkers
If the Coronavirus @ COVID-19 outbreak continues to increase daily, then the MCO (Movement Control Order) may be extended for another month and make it more difficult for those looking for sustenance to carry on with their daily lives, especially small businesses that expect their daily income.
Ramadan is coming up soon, so for those who normally do business in Ramadan bazaars, it is difficult for them to increase their income if they are prohibited from doing business when the MCO is implemented at that time.
To continue their business at that time, the government needed to find a suitable site and there should be strict rules for the safety of consumers and hawkers to distance themselves from any booth.
The entrance and exit of the Ramadan Bazaar must be strictly controlled to avoid congestion and too many visitors or buyers at one time. Buyers can distance themselves and buyers can choose, pay for what they need and then go out to the space provided for people to avoid congestion in one area.
Before this identified site can be used for business, first, there must be a sanitation process to reduce the spread of COVID-19. Sanitation processes are very important in any food service provider's place to prevent food poisoning and maintain cleanliness while processing food.
It ensures that all surfaces are cleaned regularly and reduces the risk of bacterial transmission or other pathogens from contaminated surfaces by cleaning equipment such as cutting boards or cooking utensils and so on. Perhaps in this way, it can reduce the risk of viral or bacterial infection elsewhere easily.
We urge the authorities to run the sanitation process as a whole, especially in red zones and public areas, so COVID-19 infections can be effectively treated. Now all parties should cooperate with the government to tackle the spread COVID-19 by obeying the prohibition and stay at home living a healthy and safe.
It is up to the government if it will allow businesses to continue their business openly but regulated or enclosed using online services but most importantly the COVID-19 outbreak can be prevented from spreading.
Hopefully, this problem can be solved in a win-win situation so that everyone can continue to live their lives safely and in good health. Let us pray to God so that COVID-19 disease can be controlled and prevented from continuing to spread and we can lead a life as usual.